Sylviana Hamdani (The Jakarta Post)

Jakarta   ●  
Sun, July 24, 2022

2022-07-24
14:00
4
fbd44abf30fca00c6a042b692b007669
1
Art & Culture
Building-with-Nature,exhibition,sustainability,bio-based,biodegradable,sustainable-materials,housing,architecture
Free

Erasmus Huis Jakarta spotlights sustainable buildings for a better world. 
Exhibitions can sometimes feel intimidating and even unwelcoming. Held in secure establishments, visitors usually walk around in silence, seeing and admiring items being displayed at a respectful distance. Touching or even getting too close to these items are often frowned upon.
But the Building With Nature exhibit at the Erasmus Huis in Kuningan, South Jakarta, aims to feel different. Held in the exhibition hall of the Dutch cultural center, visitors can be seen rubbing, smelling and moving things around. On July 12, which was opening day, many also sat around the space, engaging in passionate discussions about the items being displayed. 
"You may touch everything," said Lucas de Man, cofounder and CEO of Company New Heroes. "You can take [the display items] off and rebuild the expo." 
Company New Heroes is a Dutch creative company based in Amsterdam. Until Aug. 27, it is presenting an exhibition on sustainable buildings at the Erasmus Huis in collaboration with Dutch and Indonesian designers.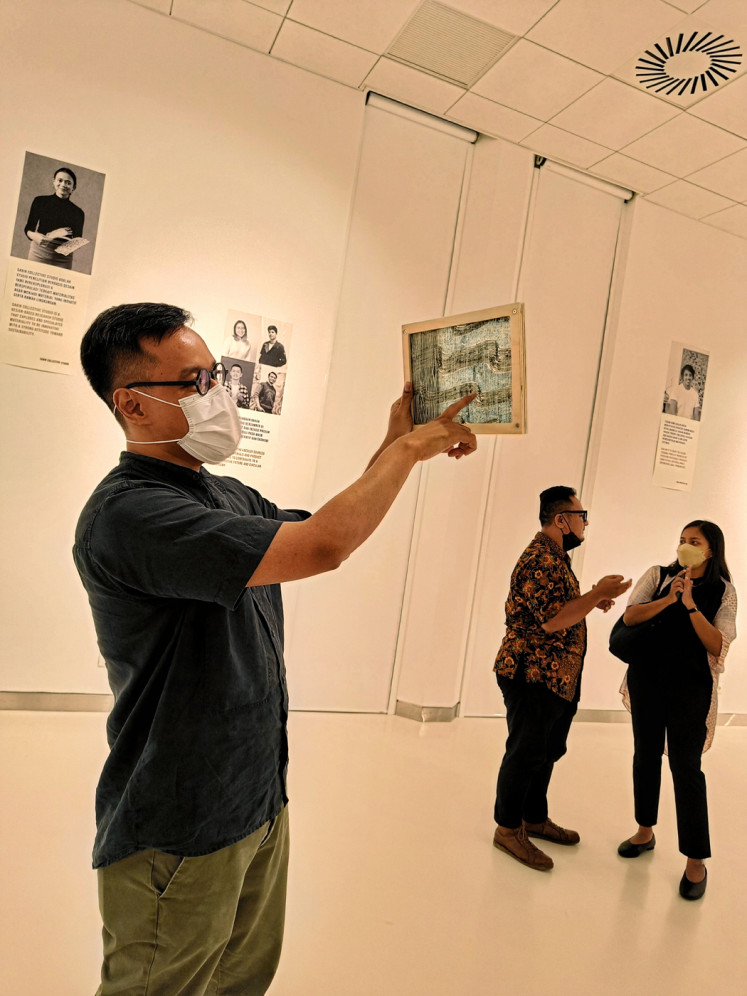 Degradable: Mohamad Taufaniari (left), founder and chief designer of ROA, holds up a panel made of "mukuna" (ox-eye beans) fibers. (JP/Sylviana Hamdani) (JP/Sylviana Hamdani)
Houses of the future
The centerpiece of the exhibition are two houses made with panels at a 1:10 scale. Each panel comes with magnets on its edges that allow them to be attached to one another.
"It's like Lego," De Man explained. "We believe that in the future, houses will be made with a [similar] modular technique, which is a lot cheaper and easier to build and renovate." 
One of the houses was put together by Dutch designers, while another was assembled by Indonesian designers. 
Both houses are entirely made of bio-based and recycled materials. 
"This exhibition shows an amazing amount of bio-based materials," Ardi Stoios-Braken, Dutch chargé d'affaires, said on the opening night of the exhibition. "These materials are not only natural or made of waste, but they're also very beautiful and allow for new ways of design." 
The walls, floors and roofs of the Dutch house are made of agricultural waste, flushed toilet paper, paprika, seaweed and many other materials that people would not normally think of converting into building materials. 
"[The Dutch house] is based on our latest project, The Exploded View, in which we made a real house on a 1:1 scale entirely with bio-based materials," De Man explained. 
Starting with Mycelium
As a creative company, Company New Heroes often makes installations and stage sets for exhibitions, theaters and opera houses. 
"We were creating installations all over the place and [then] just throwing them away," De Man said. "Then one morning, we woke up thinking how cool it would be if we could grow a set and give back to nature once the performance is done." 
After researching for two years, De Man and his partner Pascal Leboucq came up with mycelium. 
"It's the root of a mushroom that you can grow in two weeks from agricultural waste," De Man explained. 
De Man and Leboucq then used mycelium to create a 60-square-meter circular installation, namely The Growing Pavilion, for Dutch Design Week 2019. 
"Mycelium is keeping the CO2 [carbon dioxide] inside instead of releasing it," De Man said. "We've calculated it with a university and found out that the building is 10-ton CO2-negative. So, for the world, it's better for the pavilion to be built than not."
Following the success of the installation, the duo then collaborated with 150 Dutch construction companies to create another installation, designed like a real house, made with more innovative bio-based materials. 
The Exploded View became a favorite during Dutch Design Week 2021, having attracted more than 75,000 visitors in the event. 
"[The installation] allows people to see how it feels like living in a house made of bio-based materials," De Man said. "They can really touch and smell it." 
Inspired by the installation, two construction companies in the Netherlands are now building social housing complexes entirely made of bio-based materials. 
The installation also got De Man and Leboucq invited to create the current exhibition at the Erasmus Huis in Jakarta.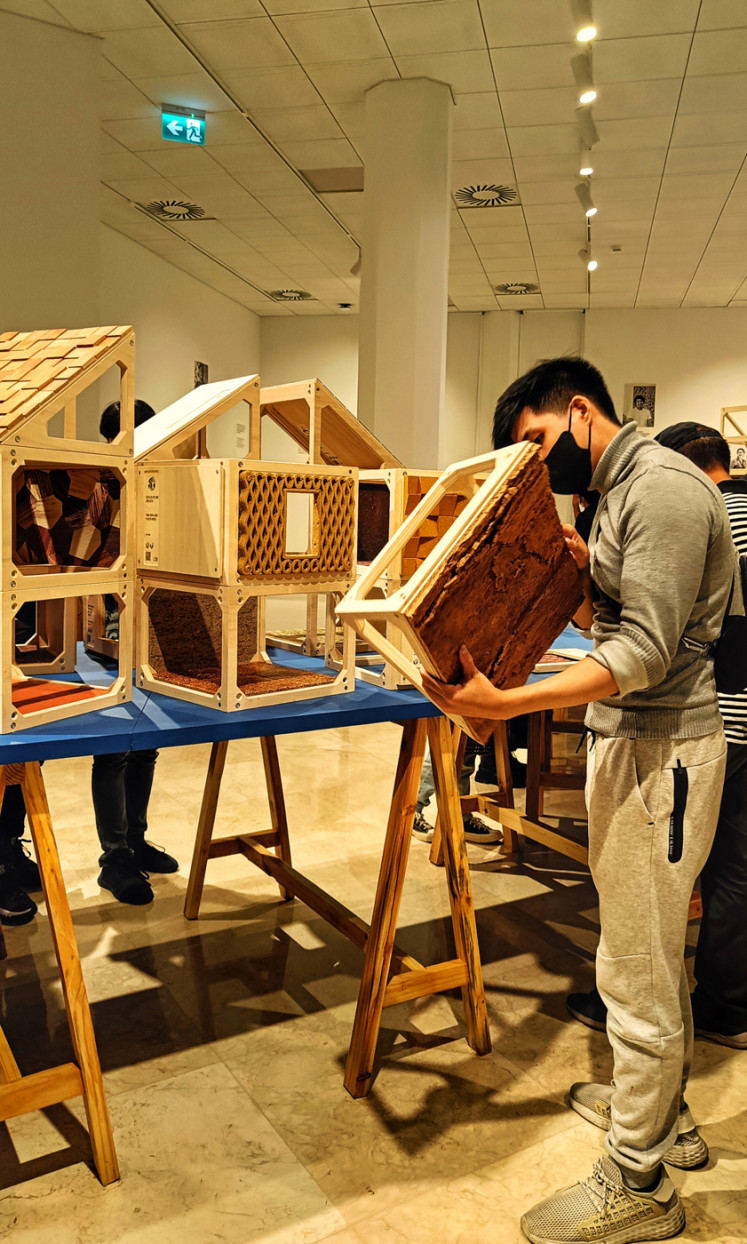 Different experience: Held at the Erasmus Huis in Kuningan, South Jakarta, the Building with Nature exhibition allows visitors to play around with the objects displayed. (JP/Sylviana Hamdani) (JP/Sylviana Hamdani)
Indonesian craftsmanship
For the Indonesian house, Company New Heroes worked with 21 Indonesian designers, organized by Playo.
Playo is a network of Indonesian designers providing environmentally sustainable solutions. 
"For the project, we examined the potential of transforming the materials produced by the designers into [the Indonesian house's] façade, interiors or roofs," said Adil Alba, chief director of Playo. 
And the result is quite astounding. One of the walls in the Indonesian house is made of corn cobs. 
"Indonesia is the number eight producer of corn in the world," said Natasha Nisa Islami of interior design studio Keebon.id. "Every year, Indonesia produces 10.2 million tons of corn. Approximately 20 percent of this amount are the cobs, which are just thrown away or used as animal's feed at best." 
Keebon.id transforms these cobs into Toja Board, a type of particle board that can be made into furniture and beautiful wall panels.  
"It's as strong and durable as a wooden particle board and helps reduce the overuse of wood, which harms the environment," Natasha said. 
The Indonesian house by ROA, a design studio based in Magelang, Central Java, features a wall panel made of mukuna (ox-eye beans), a type of vine that farmers grow to protect young palm trees from weeds. 
"Who doesn't hate palm trees?" asked Mohamad Taufaniari, founder and chief designer of ROA. "But we all panicked when palm oil went missing a few months ago. I assume that palm plantations will still be there for at least five to ten years from now. So, we might as well benefit from them."
According to Taufaniari, farmers usually throw mukuna away once the palm trees have reached maturity. ROA then transforms its bark into beautiful translucent sheets, which can be made into doors or room dividers.
"And these handwoven sheets are completely degradable in 30 days," Taufaniari said. 
Seeing the high quality of Indonesian sustainable materials, Leboucq believes the country will be an important producer of bio-based materials in the world. 
"I think Indonesia will become a big player in bio-based materials," Leboucq said. "There are so many natural resources [in this country] and the people that know how to do it." 
Lim Masulin, founder and creative director of BYO Living, agreed with Leboucq. He also thinks that Indonesian craftsmanship is an important factor in the production of bio-based materials. 
"It's in the nature of Indonesian people to create something by hand," Lim said. "And now, our creativity and craftsmanship will help answer some of the challenges faced by the world today." 
In the exhibition, BYO Living showcases a couple of exquisite handwoven wall panels made of rattan from Kalimantan. 
A greener planet
"As an architect, I appreciate the fact that many of these materials are actually very usable," Svetlin Petrov, a Bulgarian architect based in Jakarta, said when visiting the exhibition. "They feel sturdy and show texture, which is lucky in architecture. So, if we use them, we will not only contribute to a better world, but also have better spaces." 
Kenny, a student of product design at Podomoro University, felt inspired when seeing a lot of bio-based materials in the exhibition. 
"Many of today's products are made of plastic or other materials that are not very good for our environment," Kenny said. "But actually, there are a lot of sustainable materials all around us. One of them, as I've seen in this exhibition, is paper waste that we can actually make into furniture and wall panels." 
Resa Boenard, founder of a learning center for children of trash collectors in Bantar Gebang, Bekasi, West Java, saw hope in the exhibition. 
"The exhibition is awe-inspiring," Resa said. "Their method [of creating houses from bio-based and recycled materials] gives me hope that maybe soon, we can also build decent houses for trash collectors in Bantar Gebang by using materials that are readily available for them." 
During an interview on opening night, Resa also confided that she has already talked to a couple of designers that wanted to help. 
De Man and Leboucq were happy to know that the exhibition had inspired many visitors. 
"That's the idea [of the exhibition]; that we work together to create a better world," Leboucq said. 
"I don't know if [the world] will be better," De Man said. "But it will definitely be greener."